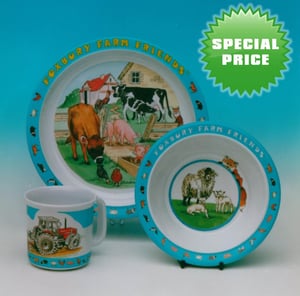 £

22.00 - On Sale
This unique set of children's tableware will add a touch of rural excitement to any meal. As well as being stylishly original, it is made of top quality melamine ware which is dishwasher proof.
Jessica the Jersey Cow and her best friends Pip and Squeak the piglets are just waiting to be owned by little young farmers and Fenella the friendly Fox is hiding on each piece of the set. Can the children find her?
Each set consists of:
* Plate (21.5cm diameter)
* Bowl (16cm diameter, 4cm deep)
* Cup (8cm diameter, capacity 225cc)
There is a different picture on each piece, drawn from animals on our own farm.
This offer, including the £5.00 postage and packaging, makes each set only £9.00 - bargain!
* To go back to a full list of products click "All" in categories *